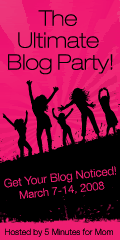 Hi ok here I am introducing myself for this blog party thing. I've made a few appetizers some pigs in blankets and the like. Can I get anyone a drink?

Since I don't know you I cant do the miss manner thing. I was told always introduce someone by pointing out the things they have in common so they have a place to start a conversation. For example Jane this is Steve I think you both have an impressive collection of rolled twine or Tony this is Alma you both have far too many cats. Since I don't really know you I think I can introduce you by saying, Hello Party goer you blog I blog discuss.

Starting form my sparkling introduction I will talk about me. I blog as you know. I tend to blog about my life dull as it may be these days. I used to be a wild party girl out till 4 always having fun and up for anything. Now I am a thirtyish gal with two kids. I run a preschool and I am very very tired. I don't know how to drive which is good because if I did I think I would go for a long long drive change my name my hair color...no just kidding(I think). I am trying to loose the baby weight keep house raise kids go to work get my brain to work and all on decaf.

I have little girl named S she's 5 months and little boy B who is 3 and very sweet although he does spend a tremendous amount of time trying to kill his sister.

I believe in soaking food in ketchup and very dry martinis. I'm obsessed with Soprtacus on Lazy Town I love him I cant help it!



I would also love a full nights sleep and would love to give up my horrible dog. There I said it!

Enjoy the party girls. Now mingle